ASSESS. COMPLY. REDUCE RISKS.

WITH SYMANTEC DISCOVERY.

Does your organisation deploy multiple SSL/TLS certificates?
Does your organisation own certificates from different issuing
authorities? Does your organisation know the configuration and
expiry date of every single certificate?

Take the unknowns out of enterprise SSL/TLS certificate management.
Discover and monitor certificates from any Certification Authority with
Symantec Discovery.
Complete our quick form to request your free 14 day trial today*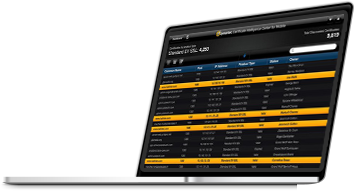 TRIAL NOW TO DISCOVER:
Full picture of your SSL/TLS environment
Discover and get detailed information about all the certificates in your networks, regardless of CA
Security ratings at certificate and server levels
Helps ensure continuity and compliance
Detailed reports and executive summaries
Helps keep track of all configurations
Managed lifecycle
Helps eliminate the risk of unexpected expiration